Regular visitors to WhatAcca.com will know that I regard bet365 as the leading bookmaker in the world and it's a bookie where I place the majority of my football accumulator bets. They have a user-friendly betting site on desktop and mobile, a massive range of available markets and they are often the best price about 1×2, BTTS and Over/Under 2.5 selections that we add to our multiple bet.
Therefore, I thought it would be excellent to create an article which outlines how to place regular accumulator bets at bet365. With this knowledge, you can visit this bookmaker on a frequent basis and know how to load up a football acca, with readers able to follow my regular accumulator betting tips and hopefully make some cash.
Make Sure You Have a Registered bet365 Account
First thing's first, in order to place a bet365 accumulator, you need to have a registered betting account with this bookie. It's completely free of charge to sign up and only takes a couple of minutes to register your details, choose a payment method and fund your account so you're in a position to start placing bets.
How to Open a bet365 Account
Click on this bet365 link to sign up
Click on "Join Now"
Enter your details and join bet365
You will need to then choose from one of the available payment methods and register this deposit option before deciding how much to deposit into your bet365 account. Bear in mind that there's a bet365 new customer welcome bonus available when you get started, so you might want to consider this when you make a first deposit.
How to Place a bet365 Accumulator Bet
OK, so you've got a bet365 account and you're now ready to start placing accumulator bets with this impressive bookie. The good news is that when you click on any betting selection at the bet365 website when you're logged in, that selection will automatically populate an online bet slip and you will also be provided with a full list of available betting options along the way.
Let's say I want to place a Premier League football accumulator with bet365 when it comes to the weekend action. I would click on 'Soccer' in the left-hand sports menu and then click on 'England Premier League' which would provide something like the following:
For the purpose of this example, I am going to keep things super-simple and we're going to place a Premier League football accumulator that focuses exclusively on the 1X2 market. Therefore I am just choosing either 1 (the home team), X (the draw) or 2 (the away team) although I often head to markets such as Over 2.5 Goals or Both Teams to Score for my footy accas.
Let's say I make the following selections: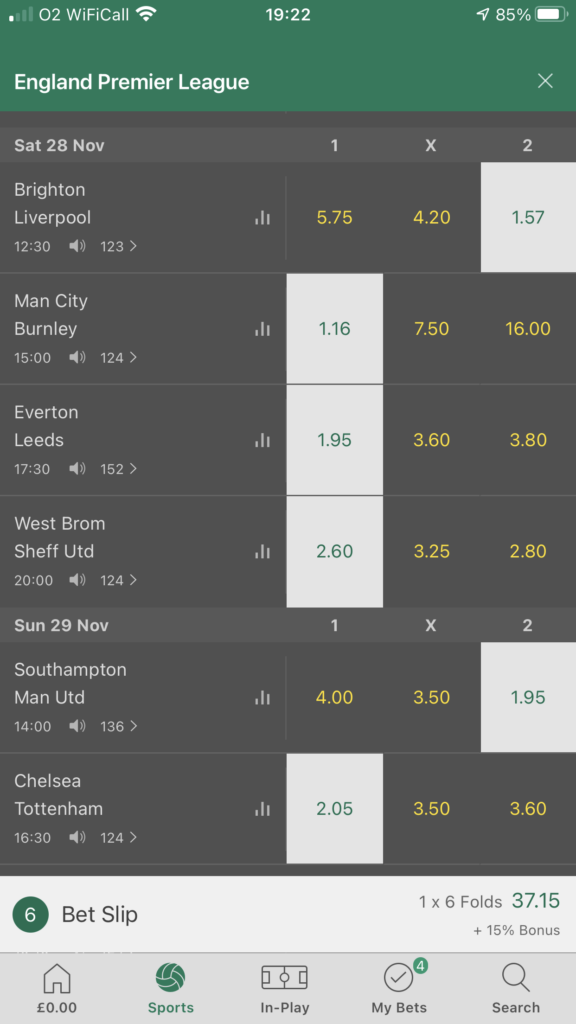 You will see that I have clicked on a selection for each of the six games taking place on the Saturday and Sunday. As I have clicked on each price, that selection has automatically populated my online betting slip and I now have six selections loaded up and ready to be wagered.
Load up your Betslip
Now let's take a look at my bet365 betting slip before we go ahead and place our acca:
I've got my six selections loaded up and we've also got the price for the accumulator which is regarded as a 6 Fold due to the fact that we have six selections in total. These odds are clearly massive at 36/1 and the price is so big because each selection in the accumulator has multiplied together.
Now comes the all-important placement of the bet. I go ahead and stake £5 on this accumulator, hoping to land a sizeable return:
The bet is now placed! I have staked £5 on my eight-fold Premier League accumulator and will win a grand total of £213.65 if all eight of my selections win. However, it's absolutely imperative that ALL of the selections win with this bet and that is why bet365 are prepared to offer such massive odds about all of my selections winning.
You will also note that my potential football accumulator return includes £27.86 as an accumulator bonus and that is because bet365 have a Euro Soccer Accumulator Bonus available which means that customers can enjoy extra winnings on top of their original returns. That is another reason why bet365 are always the first port of call when it comes to my footy accas.
How to Edit Your Bet365 Accumulator Bet Slip
I like to play around with my betting selections before committing to a particular accumulator and you might be the same. The good news is that you can add selections to your online bet slip and then decide to remove them easily should you want to proceed without a particular pick.
Let's say you've picked the following selections:
You can see that there is an "X" next to each team. Therefore, if I get cold feet about any of these picks, I simply click on the "X" and that selection is removed from my bet slip.
What Are the Best Odds for a bet365 Accumulator?
I can only speak from personal experience and would say that anywhere between 5/1 and 10/1 tends to be the sweet spot when it comes to winning footy accumulators. Even at those odds, you're not going to win every acca that you place, although the plain truth is that if I place ten 10/1 accumulators and one wins, then I have made a small profit if I'm betting the same stake every time.
Anything bigger than 10/1 with your bet365 acca and you're clearly placing a risky bet, while I would aim to stick with anything between four and six selections when it comes to this type of bet. It might be tempting to go for the eight-fold type of bet outlined in the above example although that needs a lot of things to go right.
Put simply, I would rather win with a treble at 5/1 than try to bump up the odds by making it a five-fold with weaker additional selections. Trust your judgement and stick with the selections where you feel really confident and not hopeful.
How to Claim an Accumulator Bonus at bet365
The Soccer Accumulator Bonus promotion at bet365 is a fantastic way of landing extra winnings when it comes to your football accas. Quite simply, this bookmaker will add a bonus on top of winning multiple bets depending on how many selections you have made in total. You can go for as little as three selections and be in line to claim a 5% bonus, although larger bonuses are paid on bigger footy accumulators and it's a great offer.
The Accumulator Bonus is available when it comes to the following leagues:
English Premier League
English Championship
English League 1
English League 2
English FA Cup (from First Round onwards)
English EFL Cup
Scottish Premiership
Spanish Primera Liga
German Bundesliga I
Italian Serie A
French Ligue 1
UEFA Champions League (from Group Stage onwards)
UEFA Europa League (from Group Stage onwards)
You simply need to place a multiple bet on the standard Full Time Result, Both Teams To Score or Result/Both Teams To Score markets in order to qualify for the Soccer Accumulator Bonus. That means that Over / Under 2.5 Goals won't be eligible for this promotion, so make sure you stick to the above three markets if you want to qualify for this offer which can end up paying a nice dividend.
Soccer Accumulator bonus payout table:
Using our previous Premier League accumulator example, bet365 are prepared to pay a 25% bonus on top of any winnings generated from our bet because it was an 8-fold. Should we want to go for the maximum bonus, I would have to make at least fourteen selections in my accumulator and hope that they all came in along with a juicy 70% bonus on top of my acca.
However, many of my readers don't go for an outlandish bet like this and my accumulator betting tips tend to focus more on five-folds and six-folds. A winning five-fold commands a perfectly reasonable 12% bonus on top of your winnings and a six-fold will yield a 15% dividend which is way better than any bank interest you can get on your money.
Quick Step by Step Guide (Mobile App included):
1) First, Open an account with bet365 today (T's and C's Apply, 18+)
2) Log into your account and make sure you've deposited enough to cover the accumulator you're about to place.
3) Use the menu on the left hand side of your screen to select the sport you want to bet. On the app? No Problem! Just click the 'A-Z' button in the top left hand corner for a full list of sports.
4) Click the yellow odds of any selection you want to include. That will automatically add it to your bet slip.
5) When you're happy with the selections on your betting slip find the box ('Multiple Options') for the accumulator bet (if you have 5 selections this will be the '5-Fold'). Enter your stake and click the yellow 'Place Bet' button to confirm your wager.
Detailed Guide
You will need:
An account with bet365. Don't have one? Open an account with bet365 today (T's and C's Apply, 18+)
To be logged into your bet365
Funds in your account to cover the cost of your bet
Have selections already researched to include in your accumulator bet
I realise that the guide above will be a bit quick for some so I've put together a more detailed guide below to help you get that accumulator bet placed at Bet365.
Make your selections
After opening your account and logging in, you will then need to start making your selections for your accumulator. Remember, that the most important part of any accumulator is working out which picks you are going to include. As you can imagine, I am constantly writing new articles on What Acca? to aid you in your selection process, so keep an eye out for those.
Making a selection is really simple, thanks to the super user-friendly interface that bet365 are currently rocking.
I use the left hand side panel to select the sport I want to bet on, before then being able to choose from a breakdown of leagues, tournaments, competitions or just stand alone matches. This will vary from sport to sport, but just taking football (soccer) as our example, we can see that there is a plethora of options to choose from.
After then going into the competition you are looking for, a list of matches will be on offer with the results market initially shown. Next to each selection you will be able to choose additional markets for you to customise even further.
Adding and removing selections to your bet slip
Your bet slip will always be apparent on the far right hand side of the screen. It doesn't matter which markets you jump from and between, the bet slip will never move so you can easily keep an eye on your selections.
To place a selection into your bet slip you simply click the yellow odds taken from the market you have selected. You will know the bet has been added as the selection in the market will turn to a light grey, a small yellow box will appear saying 'Added to Bet Slip' and in your bet slip you will see your selection, along with the odds.
Often you will find that when faced with choosing selections, especially for football markets, you will be greeted with three selection boxes listed as 1, X and 2. This basically just denominates home win for 1, draw for x and away win for 2. (See Above Picture)
To remove any unwanted selections, simply click the cross 'X' in the top left hand corner and they will be taken out.
Placing the accumulator bet
After you have made all the selections you want for you acca, you then need to place your bet.
At the bottom of your final selection in your bet slip, you will see a tab marked 'Multiple Bet Options' of which you need to click. This will bring up a list of all the best possible from your selection, with the one we are interested being that of the accumulator.
At this point you need to see how many selections you have made to distinguish which box to look out for. So, if you have 6 picks in your accumulator you will need to look out for the box that read '6 folds'. If you have 7 selections, it will read '7 Folds' and so on.
Another area in which you can look at is the unit column. As an accumulator is only one bet, the unit we want to stake will always be 1. This will be represented by '[email protected]' on the betting slip.
Finding the odds of your bet
Bet365 are actually –surprisingly – one of few companies where you can see the odds of your accumulator straight from your bet slip without having to enter your stake. The odds are signified below the '#X Folds' text in either decimal or fractional form.
And finally…
All that is left to do now is enter the amount that you want to stake in the box on the right hand side before clicking the 'Place Bet' button at the bottom of the page.
After your bet has been successfully placed, the bet slip will turn into a betting receipt which will list your selections, the odds for a winning selection, the amount you wagered and potential returns.
Additional information
You can view your running bets any time with bet365 by simply clicking the 'My Bets' tab in the right hand side column next to 'Bet Slip'. If your bet has already been settled then click the 'History' tab in the top right corner of the screen where you can navigate to the settled bets section.
Why Use Bet365?
I've been lucky enough to work with bet365 in my days as an affiliate whilst also being a long time user of their sports book. It's very rare that you manage to find such a well-rounded company, but bet365 tick pretty much every box when it comes to betting.
Whist the majority of my bets are that of accumulators, I don't just use these betting types. The range on bet365 in terms of both sports and markets is quite staggering and there are few – if any – that even manage to get close to bet365 in my opinion.
That's all I will say for this article as I don't want to get too far off topic, but you can read more (hear me gush) about bet365 in my review, here.
Account Opening Guide
A recurring theme with these articles is our where to start section, and this article is no different. To place any bets on bet365, whether it be accumulators, singles, Yankees or any types of bets for that matter, you must have a funded account.
You can read more on how to do this in our How To Open a bet365 Account article.